A look behind The Distance Home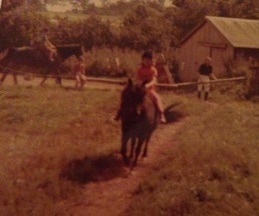 A question I get from a lot of non-writing friends is "how much of the main character is really you?"

The answer is not much. And a lot.

Not much because none of the characters in my books are carbon copies of anyone. There are bits and pieces of me in a lot of my characters.

Emma Metz, the main character in THE DISTANCE HOME, shares a few traits with me. The obvious … a love of horses. I started riding when I was four years old. We were living in England at the time, and one of my father's colleagues suggested we should give it a try. It was love at first ride.

Here's a picture of me on the first pony that melted my heart and tried to break various body parts. Dougal lived up to the grumpy pony reputation, though he didn't quite measure up to the grumpiness of the riding instructor.

Weekend trips to the English countryside made for "pony-rich" experiences. I was one of those kids who yelled "horsey" every time we passed a horse. You can imagine how tiresome that became for my parents. Especially since neither of them has the slightest interest in horses.

New Forest was one of my favorite places – how can you go wrong in a forest where ponies roam free and laps are an invitation for a nap?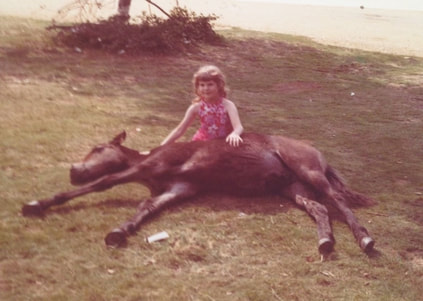 Another passion Emma shares with me is coffee. Come on … if you guys follow me on social media, you know I can't survive without my coffee. Emma has the same love for hazelnut lattes that I do. You're surprised, right?! J
There are other small nods here and there but I won't spoil it for you. Maybe we'll do a contest after the book launches.
Now for the "a lot" part.
My characters don't go through the same life experiences that I do. Similar sometimes, but never exact. They do, however, process emotions the way I would, or the way I expect I would.
Take the relationship between Emma and her parents. Emma struggles to connect with her father, who she sees as cold and unloving. Her mom died when she was young. I'm fortunate to have a wonderful relationship with my parents. So, no similarities there. But, like Emma, I've been in the situation where I desperately wanted the acceptance of someone. Those were the emotions I was able to tap into while writing Emma's heartache over her failed relationship with her father.
One of the things I love most about writing is exploring feelings and emotions. Having my characters deal with situations helps me sort through how I'd handle (or how I'd like to think I would handle) similar situations. I love taking nuggets from my life and sprinkling them throughout my books.