Carousel Beach Reading Guide Questions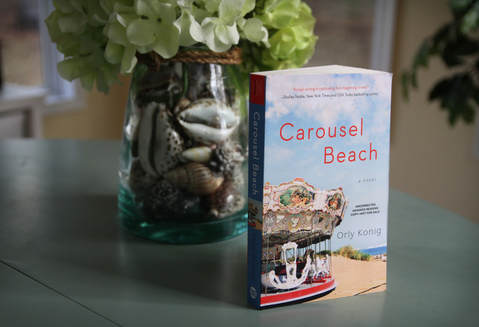 Maya has a complicated relationship with her mother, Claire, who had a difficult relationship with her mother as well. During a dinner at her brother's house, Maya observes her sister-in-law and niece and wonders if all mother-daughter relationships are doomed. What would you tell Maya? Do you believe that familial relationships are predestined? Do you think they can change over time?


Maya and Vale's marriage is on rocky footing after the difficult year they've had and Maya pulling away from everyone. Do you believe it's possible for a relationship to recover once a divide cracks between the two people?


Secrets weigh heavily on Maya and her family. The secrets her grandmother kept, the ones she's hiding and hiding from. Do you think some secrets are valid? What would be a situation when you would reveal a secret even if it could hurt the people you care about?


Based on Maya's miscarriage, Sam is reluctant to confide in her best friend about her own pregnancy. When she does finally spill, Maya wants to be happy and supportive but her grief gets in the way. Have you ever experienced a situation when you desperately wanted to be happy for a friend but grief or jealousy or any number of other emotions stood in the way? How did you handle that?


With Simon back in the picture and the revelation that Meera and Hank reignited a relationship of some kind, Maya begins to question her choices and entertain the possibility of second chances. Would you or have you reunited with a first/previous love or do you, like Vale, believe that we make decisions for a reason and shouldn't look back?


Navigating the slippery memory path of someone with Alzherimer's is difficult and emotional. Maya plays along with Hank's memory lapses as much as she's comfortable doing. Have you been in a situation where you were mistaken for someone else and felt you didn't have a choice but to follow their lead? How did it make you feel? How did you respond without feeling like you were being dishonest?


When Vale accepts a new position and wants Maya to move with him, she panics that if she's not there to keep vigil over the graves of her grandmother and baby, she'll somehow lose them a second time. Do you think that you have to be physically close in order to keep the memory of a loved one alive?


Maya tried to convince Vale that adopting a puppy will ease the loss and give her a chance to prove that she could be a good mother after all. Does taking care of a pet prepare you for taking care of a baby? Is that a fair request from her?


Claire withheld letters that Simon sent to Maya when they were young and after she broke up him. Was Claire right to keep them from her daughter? Why or why not?


For Maya, the carousel holds many dear memories. Growing up, it was her happy place, the place where anything and everything felt possible. Do you have a place that felt (feels) like a magic cocoon that's only yours?